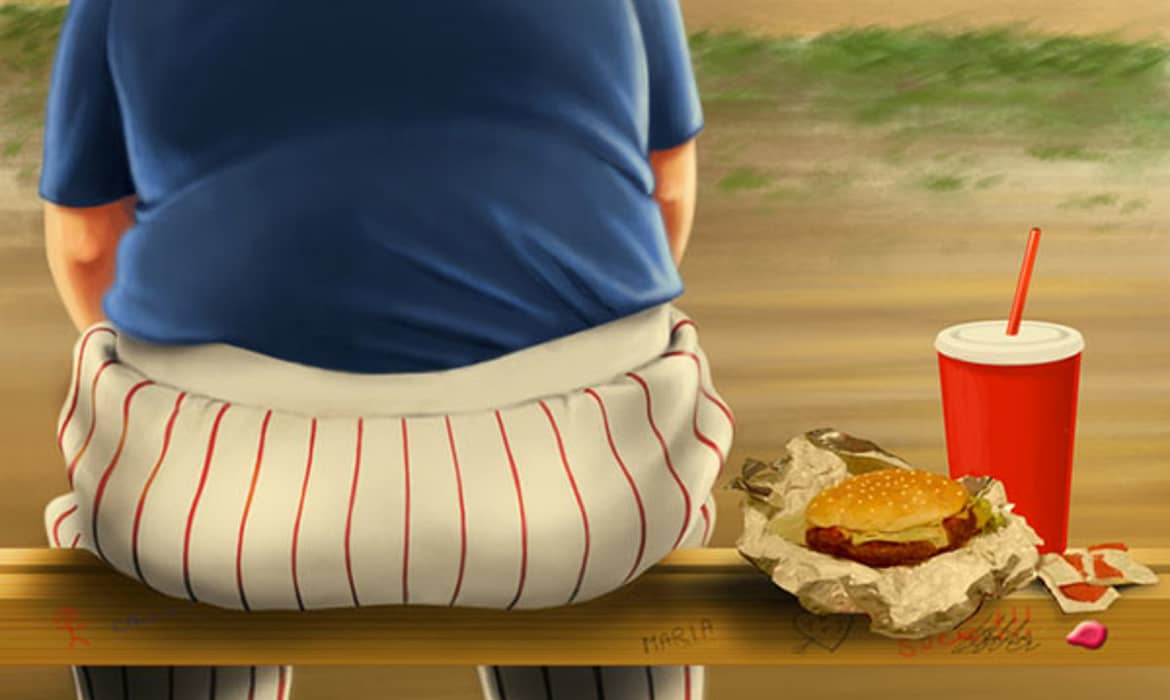 Stop Overeating INFORMATION
Eat Slowly:
This is probably one of the most important things that you can do if you're an overeater look it takes a bit of time for your brain to realize that it's starting to get full of food okay you've got two kinds of receptors that are going on we've got one which is a stretch receptor so when the stomach starts to stretch sends a signal by the vagus nerve to the brain to tell it that he's trying to get food in there and secondly you have your blood glucose levels which slowly start to increase as well and it gets the brain wire signal again which takes about 20 minutes so if you're someone that's eating super-duper fast and you're getting all that food in then you're going to be overeating right if someone eats slowly enjoys their food and takes time chewing their food properly you're not going to get as much food in there and by then your brain is going to understand that you got food in there it's going to make you feel full sort of sooner before you've had loads of food.
Avoid Distractions:
So that your brain can process signals from chemicals such as ghrelin leptin and cck now i know you're thinking you're probably thinking i don't know what these things are but i'm going to tell you don't worry I'm going to give you a quick summary so ghrelin is what makes us hungry and also it causes the food to be sort of stored for energy in fat cells then we have as we get full basically we release leptin and also really cck from your intestines these kind of tell the brain to stop look we're getting full you need to stop eating okay so these kind of signals go to the brain but if you're having loads of distractions like your phone or the tv or your laptop out and all this sort of stuff it's not going to let your brain process all these signals fully so by really fully appreciating the scenario and situation that you're in so smelling the food tasting the food all these things it's gonna suddenly cause this process of signaling to the brain sooner so hopefully you will feel full sooner as well.
Stop Overeating:
It's all about planning your meals in advance.
Look if you're someone who doesn't plan your meals and you have that grilling hunger strike that we've just spoken about you're gonna do what everyone does you're gonna reach for the closest thing that's near to you and you're gonna eat it okay and this is what's gonna cause the overeating as well so if you have a planned meal in mind you're going to avoid that grilling hunger strike you've got planned meal you know when your next meal is coming and you're not going to be eating everything that's around you during that grilling hunger strike
By Having Something To Eat You're Going To Remove The Stress:
which is caused by not knowing what you're going to eat and what happens when you're stressed you tend to overeat and when you eat you get a dopamine kick when you get that dopamine kick it's going to make you feel good hence this cycle this endless cycle of stress and overeating begins because your brain then knows when I'm stressed I get this food and I get this dopamine kick and I feel great so this is something which tip number three is gonna help with tip number four also with stress it's important to remember that we also release cortisol now cortisol increases our appetite so we're gonna be more hungry we're gonna want to eat more so please also remember you need to have some stress relaxation techniques up your sleeve as well okay so you need to make sure you practice them and you're good at them to help reduce your stress levels now if you don't have these relaxation techniques.
Portion Your Foods:
Look remember how we said right at the start how it takes about 20 minutes for that signal to be received with your brain so then you feel full, okay if you're someone who puts loads of food on their plate and you're going to quickly eat all of that then you might not get to that 20-minute stage so a really good technique to incorporate to reduce overeating is portion size for a normal portion size which isn't too much on your plate and aim to finish that if you put loads on you're probably more likely to eat everything on the plate which then tends to be overeating
Fiber:
You should be incorporating fiber in your diet the British heart foundation recommends that we have 30 grams of fiber a day that's 10 grams per meal and fiber is a carbohydrate that takes a long time to digest so it stays in your gut for a while, and it gives you that sense of fullness for longer and it also has loads of health benefits.
Proteins:
Proteins and fiber go well together and proteins have been shown to help reduce the hunger strike most now certain foods have both protein and fiber in them so for example beans and lentils you might have them as a snack you might have as a meal but they've got high fiber and protein in them but also remember it's important when you have meals that are protein so, for example, fish or meat you always have a handful of vegetables or salad or whatever on the side and that is your fiber element
Avoid High-Fat Food:
But what about fats we haven't discussed them well foods that are high in fats have been shown to increase your appetite and make you want to eat more which is why it's super important that you have foods that are low in fat or if you are going to have high-fat foods only have a little bit of them but just make sure you try and avoid them the most you can because they will increase your appetite and link to overeating and this is also true for foods that are high in sugars look when you have foods that are high in sugars for example sweets and biscuits and stuff like that they've got loads of sugar but zero fiber so what happens your insulin spikes and then it drops and then you feel unsatisfied you feel tired and you feel hungry again quicker unlike fiber and proteins which last longer and make you feel full for longer and don't increase your appetite either so high-fat foods and high sugary foods you need to avoid these
Avoid Snacking:
You need to avoid snacking in between meals you can do your meal plan throughout the day however you like it so either three large meals a day or five small meals a day, okay, but you need to avoid snacking in between them if you're gonna be snacking you're just gonna be adding to those calories and you're going to be adding to the fact that you're overeating.
Regular Meals:
If you're someone who doesn't have regular meals, you're going to be more at risk of having snacks and you're going to be more at risk of overeating so have regular meals avoid snacking, and have foods that are high in fiber and proteins and just stick to the portion size that we spoke about now.
Sleep:
You need to make sure that you're getting a good quality amount of sleep so if you're an adult you need to make sure that you're getting eight hours of good quality sleep per night research has shown that if you're not sleeping enough you're at risk of becoming overweight so you're at risk of putting on more weight and also if you're not getting enough sleep you've got increased levels of cortisol to remember cortisol we spoke about earlier cortisol is going to increase your appetite you're going to want to eat more you're going to want to snack more you're going to be overeating more so overall it's going to be putting on weight so you need to make sure you get an adequate amount of sleep
Drink Water:
Water has zero calories but the best thing about it is to remember tip number one when we're talking about stretching of the stomach and the vagus nerve or water is going to do that for you for free with zero calories okay so by drinking water throughout the day whenever you're feeling hungry whenever you usually have a snack you can't have a sip of water or something like that and it's going to cause your stomach to get larger to stretch and that stretch is going to make you feel full without the calories without the overeating so please do not underestimate the power of water.
When to Seek Medical Attention:
There are certain scenarios that you need to be aware of for when to seek medical attention about overeating so I think the best way to do this now is just to run through them.
So number one if you ever get any pain in your tummy region after eating or before eating any kind of heartburn indigestion symptoms you need to speak to a healthcare professional for more advice.
Secondly, if you ever feel like you want to throw up after eating or you are throwing up after eating this requires medical attention quite urgently because it puts you at risk of not absorbing the food and the nutrients that are in there and also it can make you weak and cause growth problems and various problems so this needs addressing too by speaking to your healthcare professional.
The third thing I want to mention is when you're eating too much and you're feeling guilty about it as well now there may be reasons as to why you're feeling that way as well but if you are feeling like that, please do speak to your healthcare professional about it they have your best interest in heart and it's something that does need looking into so definitely speak to a healthcare professional about this, please.
The fourth thing I want to discuss is weight loss look if you're losing weight and you're not trying to lose weight you're not under any diet and you're having a healthy balanced diet but you're still losing weight and you're feeling like your clothes are getting looser and looser on you this needs looking at you need to speak to your healthcare professional about it and another thing as well to mention is this is any difficulty swallowing if you're having any difficulty swallowing at all this again needs speaking to your healthcare official about
lastly weight gain if you're constantly putting on weight no matter what you're doing you're still putting on weight and you're really struggling to lose it then definitely speak to a healthcare professional about it for extra support there is also a BMI calculator which is useful to look at to see your what your weight status it's easy to use you just put your weight and height and gender in it and it calculates it and tells you sort of what weight category you're in and how healthy this is so I recommend you do check that out.